The Natural Groove Market – 29 NOV 20


Out of stock
For only Rs. 300 get access to our unique market and all activities & conferences on site. Open to kids & adults.
Tickets are limited.
Free access: -12 years old.
Activities are upon reservation only, with limited space – so make sure to reserve your spots (timetable on the left and in description below).
Reservation tips
: To book the activities, 
send us an email
 on the following email address with: 
1)
the full name of the person attending the activity 2) the activity to be reserved and 3) 'reservation' as the subject of the email. 
Email:
hellothenaturalg

[email protected]
 or call us on the 54890263/ 54890067.
FEEL FREE TO BOOK MORE THAN ONE ACTIVITY!
You can book as many activities as you want during the day. You can book your kids' spot and yours at the same time & you can save your friend's spot too.
Sunday, 29th November
9:00 am
Sunday, 29th November
6:30 pm
Les Palétuviers, Route Côtière, Anse La Raie
View Map
Let's get together to share a unique experience while chilling to the beat of groovy music.
Immerse yourself in a gorgeous endemic garden and take time to reconnect with family, friends and nature. Enjoy a selection of our most creative local artisans, taste delicious healthy food & snacks and participate in unique, fun & wellness workshops, talks and activities!
For nature lovers, explorers, health enthusiasts, curious souls, green minds, families and friends.
Ready to discover a new perspective for a healthier, fun, collective and eco-friendly lifestyle
—————————————-
DISCOVER LOCAL ARTISANS
Swing from one stand to the other and meet our gifted and passionate local artisans.
WELLNESS WORKSHOPS & TALKS
Yoga, Crystals, Herbs, Nutrition, Mindfulness, Meditation, Health & Wellbeing. Learn from healing experts and bring the tools and tips back home.
CRAFT ACTIVITIES
Jump into the shoes of our local artisans & experts, express your creativity and let your hands do the job.
KIDS ZONE
Leave video games behind and allow your kid to have fun while participating in mindful & crafty outdoor activities.
SEASONAL & HEALTHY FOOD
From plant-based hot-dogs to juicy smoothies, you'll treat your tummy with delicious vegetarian food & snacks.
GROOVY MUSIC
Follow the rhythm of the earth with the sound of Dimitri Ducasse, Brain Love, Epsilon, Ban & Manuelo. Grab a drink & move with the cool vibes!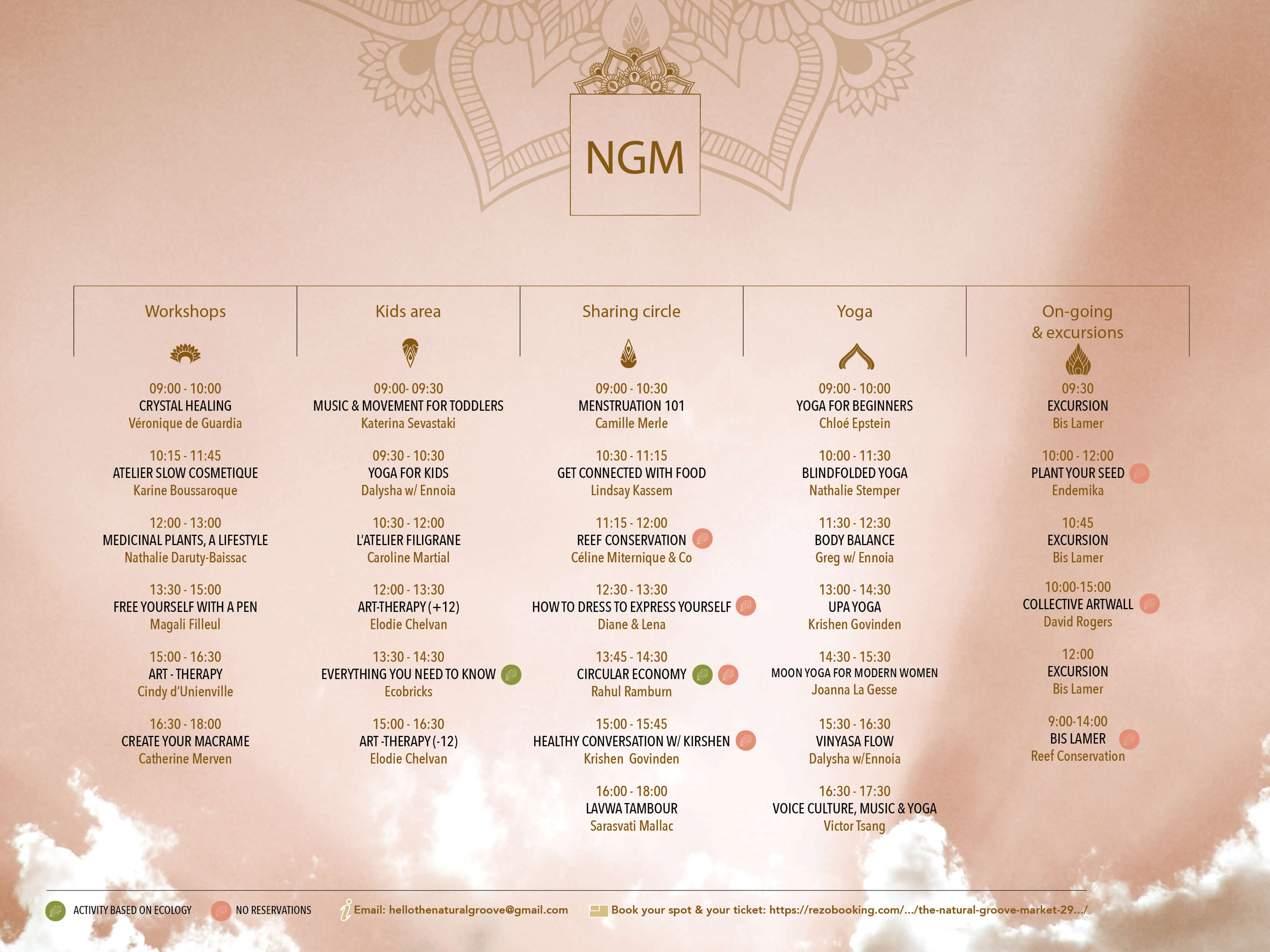 #Shopping #Craft #Local #Wellness #Workshop #GroovyMusic #Food #Child-friendly
Holder of this ticket voluntarily assumes all risks and danger incidental to any event for which this ticket is issued and waives all claims against the event sponsor, the owner of the facility, the ticket producer or issuer.
Admission is subject to compliance with all laws and facility rules and the ticket holder consents to reasonable examinations and searches to ensure compliance.
Failure to comply with the law or facility rules may result in refusal of admission or expulsion.
No unauthorized recording of event where prohibited.
By participating in this event you accept to be photographed and filmed.
No Refunds or Exchanges
The Management reserves the right of admission.